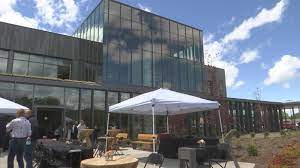 OSMO Spring 2023 Membership Conference Saturday May 6, 2023 in Medford OR!
Friday May 5, 2022, DANCIN Vineyard-Transportation provided (with advance reservation) from Ashland Spring Hotel
6:30pm-9:00pm OSMO Member Reception
Saturday May 6, 2023, Heiman Cancer Center, Medford Oregon  
8:00am-8:30am Registration and Breakfast
8:30am-8:45am-Welcome & Introductions/ Members Vote Board of Directors 2023-2025
Mujahid Rizvi, MD, MPH, FACP- OSMO President Hematology Oncology Associates PC, Medford OR
8:45am-9:30am- Update on the Changing role of Neoadjuvant Chemo/immuno prior to surgery in resectable NSCLC and updates on adjuvant therapy/adjuvant targeted treatments.
Rachel Sanborn, MD Medical Director of the Thoracic Oncology Program and Medical Director of the Phase I Clinical Trials Program, at the Earle A. Chiles Research Institute at Providence Cancer Institute
9:30am-10:15am- Blood-Based Multi-Cancer Early Detection through Multi-Biomarker Class Testing-Tom Beer, MD Chief Medical Officer, Multi-Cancer Early Detection Exact Sciences
10:15am-10:45am Coffee Break with Exhibitors
10:45am-11:45am- update on the progress the NBPAS has made over the last seven years.
Paul S. Teirstein, M.D. Chief of Cardiology, Scripps Clinic Medical Director Scripps Prebys Cardiovascular Institute & Karen Schatten, MLS Associate Director
 11:45am-12:30pm Value Based Care and the Enhancing Oncology Model:  How practices strategically focus on taking risk.
 Lalan S. Wilfong, MD
12:30pm-1:15pm Dr. Spurgeon OSHU
1:15-2:00pm Networking Lunch
Welcome to The Oregon Society of Medical Oncology (OSMO)
Your support through membership is critical to the continued advancement of OSMO interests: To identify and work to improve oncology practice issues that adversely affect patient access to cancer care; to act as a patient advocate to ensure that patients have access to the best available care; to support and encourage clinical research against cancer.
Regularly Monitor the OSMO Website for:
OSMO meetings & events
Legislative updates
Billing & reimbursement updates
Oncology news